FLIPFLOP AND TREACLE
Hi! Thanks for visiting our page :) We really appreciate your support.
We are a small business based in Bali who make sustainable and ethical fashion affordable and accessible.
We design swimwear from recycled fabrics , underwear and island clothing in organic fabrics dyed with plant dyes and non-chemical certified dyes in classic designs and neutral colours that won't go out of fashion, that we hope will become staples in your wardrobe. In our boutique in Bali we offer a custom bikini service offering over 30 different recycled fabric options, and we also have a curated thrift clothing collection, reusing what is already in production.
REGENRATED AND ORGANIC FABRICS
We make all of our clothing in Bali, using fabrics that are either recycled or organic and plant-dyed. When you buy a piece from us we wrap it in a handwoven palm basket (made by hand in our neighbouring village), supporting local workers, that you can use and reuse. READ MORE
ETHICAL PRODUCTION
We source all of our fabrics locally and make our pieces locally. Our tailors Pak Ajik and his wife Ibu Dewa are friends of ours based in Bali and they hand make all of the clothing at Flipflop and Treacle. We dye our fabrics with plant dyes (sourced from leaves from sustainably grown trees) at a local dye house Tarum Bali. READ MORE
GIVING BACK
From every piece of swimwear sold and every piece of thrift sold we donate 20,000 rupiah to charity. We support Thresher Indonesia (protecting these endangered sharks) ,and The global village foundation (providing wheelchairs to impoverished families in Bali). READ MORE
SWIMWEAR MADE FROM RECYCLED PLASTIC WASTE
CALLAKAII
We recently launched a sister company CALLAKAII making sea goddess pendants and simple hoop earrings in recycled silver and gold plated recycled silver. 20,000 rupiah from the sale of every piece is donated to A LIQUID FUTURE (teaching Indonesian women in the Mentawais how to swim, surf and protect the local marine life. In turn they are given the ability to teach surfing as a business).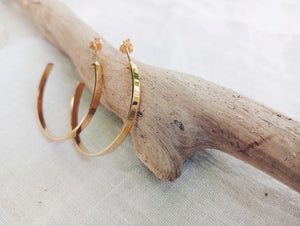 INTIMATES MADE FROM PLANT DYED ORGANIC COTTON
We are so proud to support these amazing charities and conservation projects. Every piece of swimwear sold donates 20,000 rupiah to The Thresher Shark Indonesia project. Every piece of thrift sold donates 20,000 rupiah to The Global Village Foundation. Every custom surfboard sold plants 5 trees with One Tree Planted. Finally every piece of jewellery sold from our sister company CALLAKAII donates 20,000 rupiah to A Liquid Future. Click here to learn more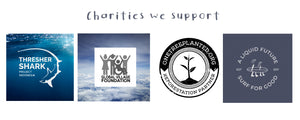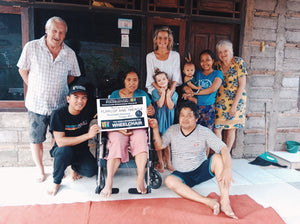 CHARITY UPDATE
This month we headed up to Singaraga again to donate more wheelchairs to impoverished families with disabilities. This is only made possible through The Global Village Foundation , who we support with a 20,000 rupiah donation from every bikini / pair of boardies we sell.
So far we have raised 25,720,000 which we have split between The Global Village Foundation and Thresher Shark Indonesia (offering shark fisherman an alternative lifestyle to protect these endangered sharks). To read more about our charities click here. .https://flipflopandtreacle.com/pages/giving-back
We really try to do our very best but we are forever learning. We have a feedback box in our Bali store and love to hear how we can do better. Please shoot us a message in our contact us section if you have any suggestions. Enjoy shopping :)